Sitting in Betty's in Harrogate with his wife Linda, Colin Barrell passed comment that 'this would work well in Taunton'. Beware the throw-away line!
3 years later after selling his McDonald's franchise, Colin had found the premises and the right business partner.  Having decided what would work in Taunton, Colin approached the highly regarded local Tea blenders and Coffee Roasters, D.J. Miles & Co. Ltd. of Porlock, with the idea of opening a Tea Room with them.
Mr. Miles opened the doors for business on the 24th of February 2010.  Today, Mr Miles Tea Room offers a full breakfast and lunch menu, homemade cakes and afternoon teas as well as a gift shop boasting freshly roasted coffee (roasted on site!) an array of different teas and infusions and ceramics from manufacturers such as Dunoon and Emma Bridgewater.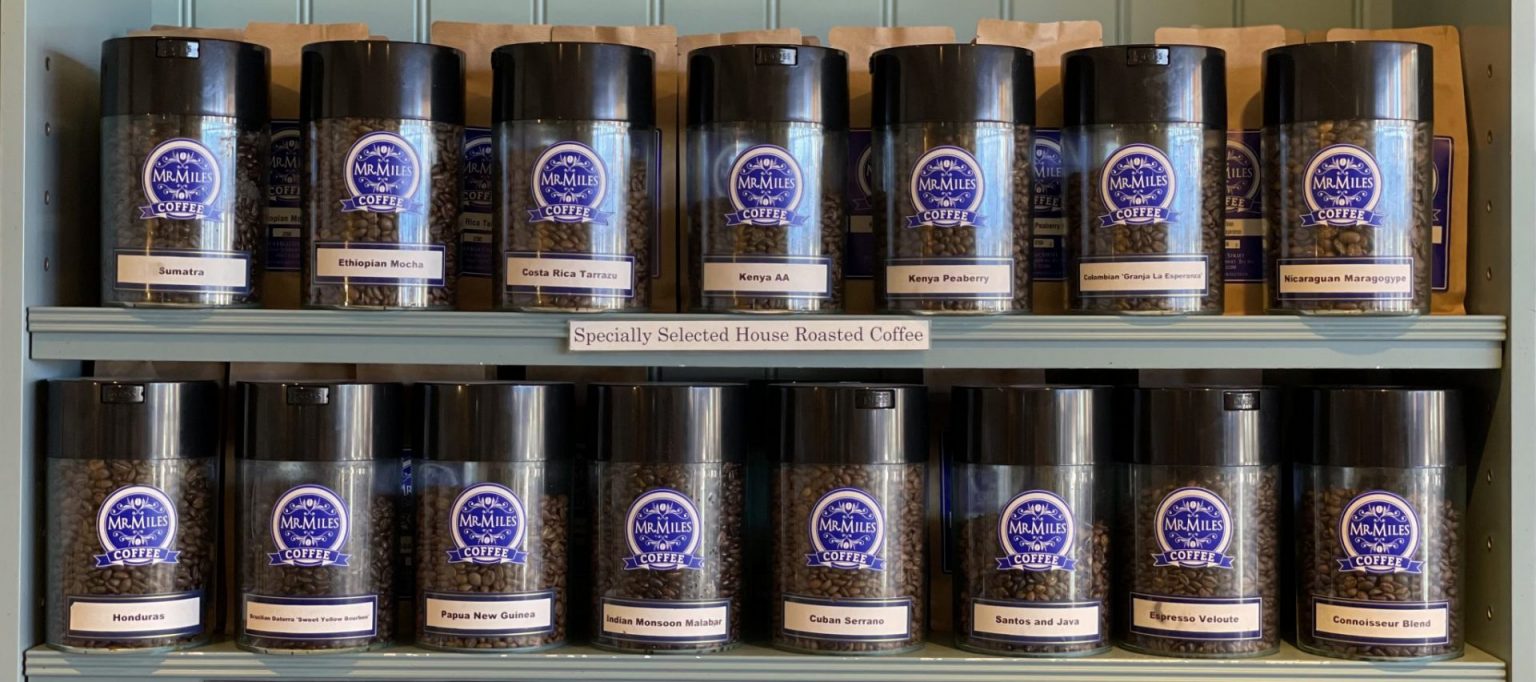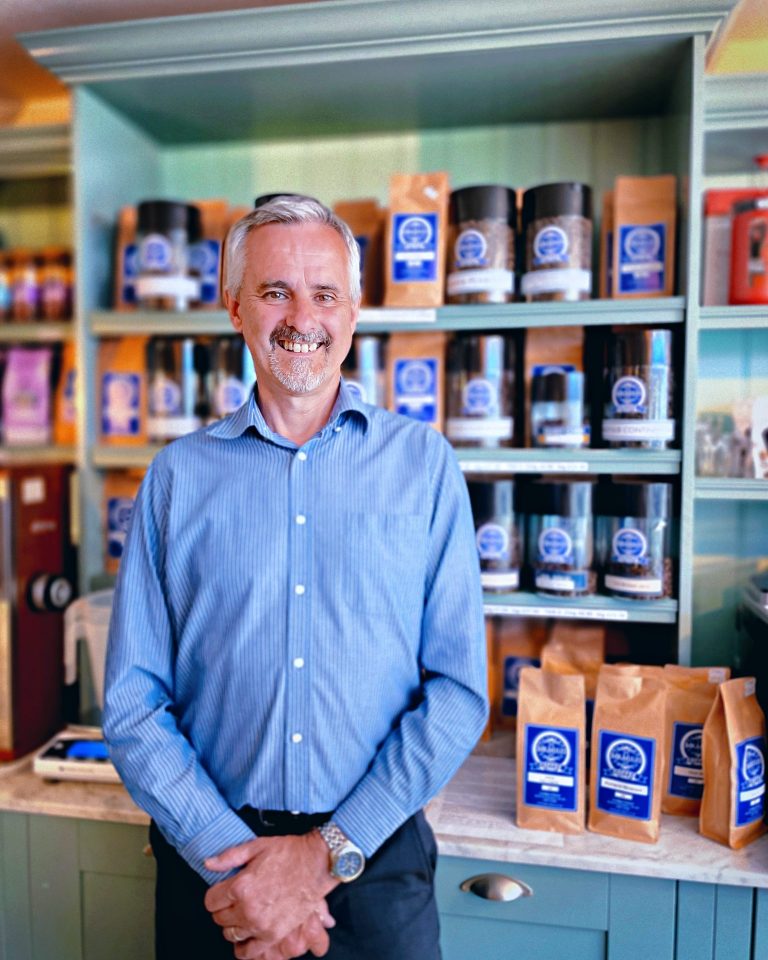 The High Street in Taunton seemed the perfect venue for a little 'Café Culture' and the old Laura Ashley building proved a perfect venue.
After 27 years serving customers as part of the McDonald's organisation, Colin knew he had the skills to put the operation in place but needed the expertise of D.J. Miles to deliver the coffee and tea experience he wanted. Miles for their part, had long been pondering the potential of opening a Tea Room.
When the two parties came together the project really took off. The High Street in Taunton seemed the perfect venue for a little 'Café Culture' and the old Laura Ashley building proved the perfect venue. "Mr. Miles" opens 7 days a week, offering indoor and outdoor seating for your cup of coffee, lunch or even a homemade cream tea!  Our staff includes highly skilled chefs and bakers who produce 95% of the wonderful menu in house using local products.  In the gift shop you will find our very own coffee roaster with a selection of over 25 coffees to choose from. 
There is a vast selection of different teas and infusions with all the equipment you need to make the perfect cuppa.  Mr Miles also stocks ceramics from the likes of Two Bad Mice, Royal Worcester and Emma Bridgewater to name but a few.
A visit to Mr. Miles tells you all about the work that has been done to establish something very special in Taunton
From the greeting at the door to the decor, everything is done to the highest of standards. The welcome is warm and the menu offers something for everyone, from the finest teas and coffees from around the world, to a beautifully decorated Latté. 
Our staff compliment is now around 30. We operate with a daily rota of 5 in our kitchen and between 8 and 15 front of house, depending on expected levels of business and seasonal variations. The key for us is hiring the right people with a caring and diligent approach to making every customer's visit a warm and pleasant experience. With this philosophy, we have found that we have not only kept a very loyal following but also made many long-term friends. 
Our fresh-roasted coffee offering has been well received and we supply many other local businesses on a wholesale basis, as well as selling our teas and coffees in our shop as retail products. The quality of the product is very hard to match even on a National basis. That is where the expertise from D.J. Miles comes in. Well over a century of sourcing the very best teas and coffees means we're are confident of giving you the best of taste experience.
The lead up to Christmas is usually a busy time for us as the gift shop is well stocked with something for everyone, whether that is a home coffee espresso machine or a small stocking-filler, or something nice for a Secret-Santa surprise.
We like to introduce new lines each year to keep things fresh but, also continue to stock many timeless items such as the Alice in wonderland range of china and fine bone china mugs from Dunoon with countless subjects on their decorations. If you pay us a visit you may discover something you never expected to find. We look forward to welcoming returning customers and anyone who is discovering us for the very first time.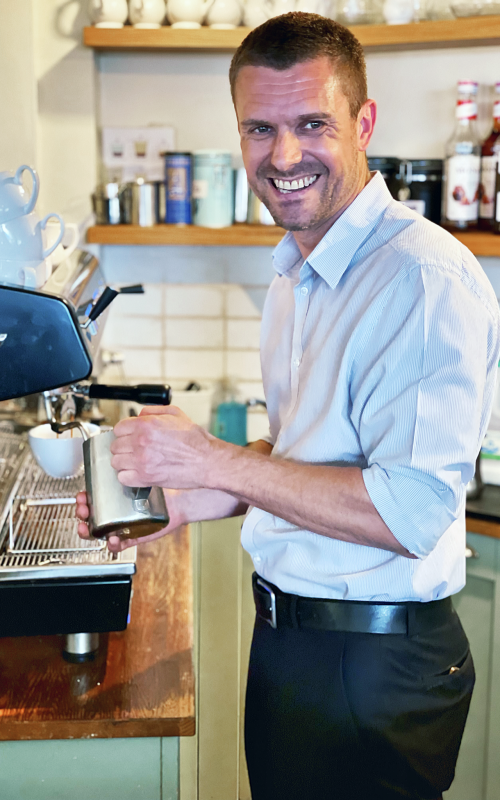 Want to keep up with all the Latest News & Offers at Mr Miles?