Barista Training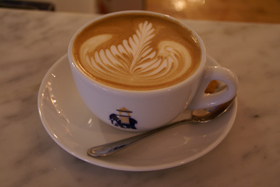 Mr Miles offer Barista training to both Commercial and Domestic customers. Whether you have a cafe, pub, restaurant or a machine in your own home we can teach you how to make great tasting coffee. You've invested in your machine, learn how to get the best from it!
For home machines, prices start at £60. If you'd like you can bring your own machine to Mr Miles Tea Rooms or we can teach you on own domestic machine. By the end of the session your coffee will be the envy of all your friends.
Home machine tuition also makes a great present for a coffee lover and can be purchased in the form of a voucher for birthday's, Christmas etc.
For commercial training prices start at £120+VAT. You can come to Mr Miles Tea Rooms or our Barista trainer can come to your premises. We will guide through making the perfect espresso, and how to make changes to your equipment to ensure a great coffee every time. We will also teach you how to steam and stretch milk, and with that how to produce the perfect Cappuccino and Latte. Consistently great tasting coffee can be one of the keys to retaining regular customers and attracting new ones.
To discuss your individual requirements send us an email info@mr-miles.co.uk or phone Mr Miles Tea Rooms on 01823 322 288