Coffee & Tea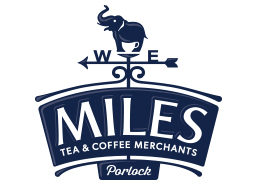 In partnership with DJ Miles we stock a huge array of freshly roasted coffees and skillfully blended teas. Many of our coffees are roasted on our premises in our state of the art roaster. This allows us to roast small amounts of speciality coffees from Kopi Luwak (Civit cat coffee) to Kenya AA and the champagne of coffee, Jamaica Blue Mountain. Our range of teas are of the highest quality. The blenders at Minehead taste tea on a daily basis to ensure the consistency of blend and quality. We have a variety of delightful single plantation specialty teas. If you have a particular favourite come in and talk to us, we can help. We are happy to discuss your requirements and with the help of the experts at Miles we can source you coffees or teas from around the world.
Both tea and coffee can be purchased in amounts to suit your needs. We weigh both beans and leaves for customers on a daily basis in weights from 50g up to 1kg.
See our extensive list of coffees and teas in stock below:
In House Coffee
In addition to our standard beans we have a varied selection of house roasted beans that are all pure Arabicas and have been carefully chosen to give you a range of roasts and flavours.
Old Brown Java: From Indonesia. The beans for this strong roast are aged for up to two years. This results in a full bodied coffee with a wonderful spicy aftertaste.
Monsoon Malabar: This coffee comes from the western side of India. The beans are aged for up to 6 months. The roast is medium to strong and produces a smooth coffee with a distinct flavour.
Sumatra: A wonderful dark roast from the Sumatra Islands. Smooth with a good aftertaste.
Guatemalan Elephant: This is a lovely smooth, medium to strong roasted coffee from Central America. It is well balanced with good acidity and chocolate tones.
Nicaraguan: From the "La Bastille" Estate in Nicaragua, this is a quality coffee that is well balanced with good body and aroma. It is a medium roast to get the best flavour from the bean.
Kenya AA: This medium roasted Kenyan coffee has good acidity (tasting terminology denoting quality and altitude) and lovely fruit and citrus notes.
Kenya Peaberry: This whole coffee bean has been medium roasted and has similar properties to the AA, although it has more acidic character and its flavours are more complex.
Honduras: This popular quality coffee from Central America has been medium roasted to give it a lovely aroma and a good flavour.
Doi Chang: This medium roasted coffee comes from Thailand. The farmers have been encouraged to grow coffee to help replace the growth of opium poppies. This coffee has a wonderful aroma and lovely smooth taste.
Costa Rica Aquiares: This medium roasted coffee comes from one of the best coffee growing countries in the world. The coffee has great acidity and is smooth and creamy.
Brazil: Brazil is responsible for growing on average 1/3 of the world's coffee crop. Brazilian coffee is medium roasted, has good body and is an easy drinker. It's great for adding to other coffees to extend a blend.
Ethiopian Mocha: Ethiopia is where the first coffee bean was discovered. The coffee beans are dry processed and light/medium roasted to give a mellow flavour with distinct notes of fruit, wine and spice.
Miles Standard Coffee
After Dinner Blend: A strong rich blend of coffees from Central America, higher roasted for a full, rounded flavour.
Breakfast Blend: This is a medium roasted blend of coffees including nutty Colombian and creamy Cost Rica. The coffee is smooth with a full flavour, not just for breakfast!
Cathedral Blend: This coffee is roasted just up to the first sweat to give a richer roast and good flavour. The coffees are from Central America and include Costa Rica and Honduras.
Columbian: A classic medium roasted coffee. Columbian has a nutty background and plenty of character and provides a great all day coffee.
Costa Rica: One of the best coffee growing countries in the world, Costa Rica is a smooth, mild and creamy coffee with a subtle acidity and no bitterness.
Fairtrade: A medium roasted blend of coffees including some Honduras and Brazilian for good aroma and flavour.
Decaffeinated: Our decaffeinated coffee comes from Brazil and has a mellow flavour and is very smooth.
Kenya: Kenya coffee has a pleasant sharpness in flavour, with fruity, citrusy notes. The coffee is medium roasted to bring out its great character.
Italian Espresso: A blend of beans and a higher roast creates a full bodied coffee with a bit of a kick.
Espresso Latino: This medium to strong roasted blend of coffees has been created especially for espresso drinking. The coffee is smooth, full bodied and without sharpness.
Espresso Veloute: A Mr Miles favourite! We use this coffee in our café as a basis for all our espresso based coffee drinks. It's a wonderful blend of beans including Colombian and Honduran to give a smooth, full bodied flavour.
Mr Miles Blend: Another favourite. This blend of coffees from Central America includes Honduran, Brazilian, Costa Rican and Colombian creates a smooth coffee that has good flavour and is great for all day drinking.
Continental: This mix of Arabica and Robusta beans has been high roasted to give an oily, woody character with a pungent finish that sits heavily on the palate.
In House Tea
We have a large selection of leaf teas and tea bags available to purchase in store. Choose from the following: (L= loose leaf, B =tea bag)
Assam: The Assam tea estates are situated in the North East of India and have been established since the 1840's. Our blend of Assam teas have been selected to give a strong full bodied malty flavour. This is a lovely morning tea, especially if blended with Kenya or Ceylon teas. (L) Also available in a large leaf which will give a rich light finish.
Ceylon Orange Pekoe: This is a full leaf, high grade tea that is fresh and delicate with a lovely coppery colour. (L)
Ceylon BOP: Broken Orange Pekoe. This is a reference to the leaf size. The leaves are picked and broken making it stronger in flavour than the Ceylon Orange Pekoe. Ceylon tea is lovely, slightly astringent and very refreshing. (L)
Chai Tea: A traditional strong black tea that has a variety of added spices including cardamom, cinnamon, ginger and clove. For an authentic Indian taste one should add condensed milk as well as water and sugar. The result is a sweet, spicy, syrupy and creamy drink (L)
Chum Mee: Chun Mee is a popular green tea that originates from China. Translated into English "Precious Eyebrows" is a reference to the arched shape of the leaf once it is dried. The tea is full bodied with a slight astringency and has a lovely plum like aftertaste. (L)
China White Yin Zhen: White tea consists of very young first shoots of the tea bush, unopened and still very white having not been exposed to too much sunlight. China White Yin Zhen is one of the finest white teas, best drunk without milk; it is a wonderfully delicate pale tea that tastes better on the 2nd or 3rd infusion. (L)
Darjeeling: This is a fine blend of pure Darjeeling teas that are grown in the foothills of the Himalayas. Known as "The Champagne of Teas" Darjeeling is light, crisp and refreshing with a fresh almost hay like aroma. (L)
Dragonwell: Dragonwell green China leaf tea has a wonderful colour and aroma with a delicate flavour and great aftertaste. (L)
Earl Grey: This is a quality blend of Indian and China teas, delicately scented and flavoured with oil of Bergamot for a subtle citrus flavour and aroma. (L,B)
Jasmine: Jasmine has been added as a flavour to China teas for centuries and is one of the most popular of the flavoured oriental teas. It is light and delicate and is perfect for drinking after food as it has refreshing and cleansing properties with a wonderful aroma. (L)
Keemun: This is a fine blend of China Keemun tea that has a lovely delicate flavour and smooth, sweet floral note. (L)
Kenya: Kenya Leaf tea produces a strong, full flavoured tea that is bright and has a rich coppery colour when milk is added. (L) Also available in a large leaf which will give a rich light finish.
Lapsang Souchong: A classic black tea from China that has an unmistakable flavour and aroma. It has a crisp smoky taste that gives a strong, refreshing cup of tea. (L)
Madam Butterfly Jasmine: This is a premium China Tea with a delightful, full and refreshing flavour. (L)
Large Leaf Darjeeling: Considered as a traditional "British Tea" it has a wonderful, light and delicate flavour that is very refreshing. (L)
Oolong Pheonix Goddess of Mercy: Oolong is a semi-fermented tea that has light orchid notes and a pleasant aftertaste. Semi fermented means the leaves are withered and fermented very briefly, thus this tea sites between black and green tea. (L)
Pinhead Gunpowder: A delicate China tea that got its name because the first European traders thought it looked like the gunpowder explosive as the tea is rolled in to light round balls and is slightly grey in colour. This pleasant tea has a hint of sweetness, is slightly dry and very refreshing. (L)
Redbush: Redbush or Rooibos is the leaf of the red bush tree which grows in South Africa. The leaves from the tree taste similar to tea and are processed in a similar way to black tea. Red Bush is caffeine free and contains little tannin, thus will not stew. It is refreshing with a naturally delicate sweet flavour. (L,B)
Rose Pouchong: This China black tea is delicately flavoured with rose petals to produce a wonderful, fragrant drink. (L)
Russina Caravan: The original Russian Caravan tea was made from China tea that had come to Europe by the Camel Caravan on the silk and spice route across Russia. This is a good strong, smooth black tea from China that has a wonderful malty flavour. This a versatile tea that has depth, colour and body. (L)